Archive Narrative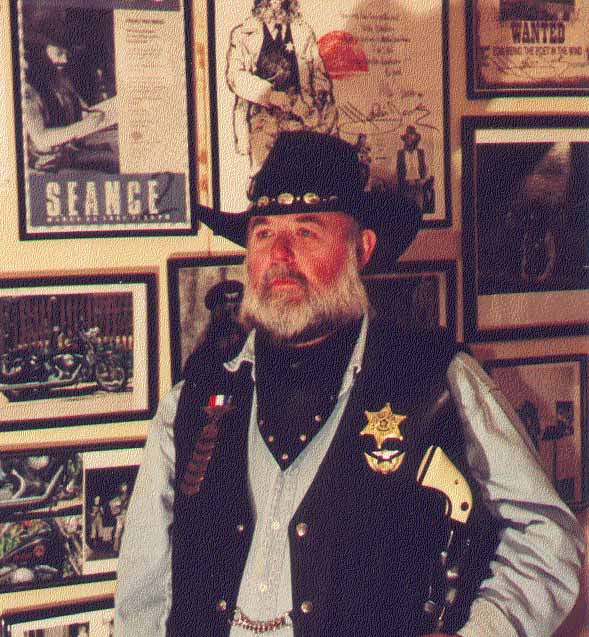 Deputy Chuck Johnson, Binary Shootist and Spirit Farm Purveyor
This archive narrative discusses historical motorcycle and contemporary Rock and Roll cultures from Dr. Martin Jack Rosenblum's visionary spirit farm perspective. In 2006, Martin Jack with The Last Canyon Band continues the tribal harvest. In 2007 thru 2009, Werewolf Sequence brings Martin Jack's vision to fruition.
Dr. Martin Jack Rosenblum was recently quoted in a story published in 1999 on the occasion of a lecture he delivered on the subject of Harley-Davidson Mythopoetics:
By Anna Driver
Sotheby's
CHICAGO, Sept 8 (Reuters)-Riding and owning a Harley-Davidson motorcycle is a spiritual experience that can transport riders beyond the boundaries of the blacktop, preaches Martin Rosenblum, Harley-Davidosn's resident poet and historian.
"There is something shamanistic about riding a Harley-Davidson," Rosenblum, told motorcycle enthusiasts and collectors at an auction preview held here late Tuesday. "There's something life-transforming about it."
Bearded, bespectacled and dressed all in black, Rosenblum, who is Milwaukee, Wis.-based Harley-Davidson Inc.'s chief archivist and historian, said the almost mythic appeal of owning a Harley-Davidson motorcycle is linked to the desire for a certain lifestyle.
"Harley-Davidson designs motorcycles that create a way of life," Rosenblum said. "People who ride motorcycles want something more than transportation."
Martin Jack speaks for all of us who ride.
Martin J. Rosenblum described his limited edition Harley-Davidson Sportster, the subject of "The Holy Ranger: Harley-Davidson Poems," a Trademark Licensed product book from Harley-Davidson in the eighties, as the ideal urban steed. He rides it into an American past populated with Texas Rangers and mountain men and political outlaws.
Rosenblum did not fulfill his childhood dream of owning a new Harley until he was entering his forties, although he had many previously enjoyed Harleys before then. By that time, he had established himself among an international community of artists known as the Objectivist Poets and earned a doctoral degree as a scholar in this field. He had undergone a career change. He quit trying to teach poetry at the university level to take a job that he considered of more use to his community, advising students who lacked college skills. He was recovering from a near-fatal illness.
"I realized that it was time to do things I wanted to do. One of these was to own a perfect specimen of a Harley." He had it delivered on a snowy, mid-winter day even though it would be months before he would be able to ride it. Rosenblum remembers going through an ordinary workday filled with joy at the incredible notion; "I've got a Harley-Davidson in my living room." Late that night, he got up and went downstairs alone. The only lights he turned on were the lights of the bike. He sat next to it in a chair for a long time.
This is paraphrased from The Holy Ranger book of Poems:
the 30th Anniversary XLH sat in the diningroom during winter months & once after a late movie, when all slept & the first real snow landed, I got on it & turned the lights toward a front window shinning into the blanket being tossed upon the birch tree as winter's comfort & signaling with yellow flashes reflecting on an empty television screen.
It is a subject of interest that Martin Jack is seen as a shamanistic poet-philosopher by the academic and fine art people as well as by the Harley riders. He is more understood by Harley folk. They know intuitively what he is all about.
A student of American history, Rosenblum collects and uses what he considers the essence of American products in areas he has practical expertise -- Colt pistols, Gibson guitars and, centrally, a Harley-Davidson. He identifies Harley with the rugged individualists of the past. He sees no reason why bikers should be considered to be criminally inclined. "The image of a Harley owner as some kind of degenerate is false just as the image of an artist as a degenerate is false. Both can be healthy lifestyles. Owning a Harley has something to do with an archetypal sense of the frontier, just as being an artist does but there the frontier is more internal. Riding a Harley motorcycle is a spiritual feeling of being out on the range, and my Harley-Davidson poems and songs are the result."
Although he has no love for Japanese motorcycles, he compares Harley-Davidson riding to Eastern meditation and the displine he has pursued for years in martial arts. "Each time I get on, I quiet myself. I have no other purpose. I'm not running an errand, I don't use this bike to go to work. When I'm on my Sportster, I'm really riding it. It's like the oriental tea ceremony. When you pour the tea, you're really pouring it and you don't spill a drop. This is my understanding of what meditation is. I probably pray more in a twenty-four hour period than most holy men do. I just do it on a Harley."
Rosenblum does not use word processing for the creation of his art, for computers do not function when the power goes out. The Holy Ranger is prepared for the failures of modern civilization, and rides in search of the Old American Way with an understanding that an advance has to mean a hard look back. There are people behind us from whom present lessons must be learned, and people now, too, whom we must judge by virtue of their knowledge of the past as they bring us into future possibility. The Holy Ranger writes his poetry and songs as a tribute to these pioneers, past and present, who cut the trail into a more promising American Way of life. These are the horsemen who are on an apocalyptic ride.
The Holy Ranger is blessed and humbled to know some of them, and intends to celebrate their individuality and style, for there is no greater contribution he can make to a nation that still is being carved out of territories unknown by riders who can righteously handle where they journey.
The Holy Ranger started riding at the young age of 12, on Harley K Models that he acquired from the nearby Appleton race track. He not only had Harleys but Triumphs, Nortons, and a Ducati. His father did not approve of Marty owning a motorcycle, so he would hide them so as not to get caught. At age 16 while riding his Ducati in a nearby cemetery, he rode into the street directly into the path of an oncoming car. As the car squealed to a stop, Marty recognized the driver as his father. His father didn't talk to him for a while but never mentioned the incident. At 17, being a year wiser he acquired a XLCH Sportster which he hid in his Grandmother's chicken coup. All was fine until he injured his knee trying to kickstart the Sportster, and needed surgery. This injury and the memory of that time is still with him today. After Marty received his new 30th. Anniversary XLH he was visited by his father. As the two stood looking over the newly acquired Sportster, his father commented how nice the bike looked, then said, "but you've had a lot of them." Thank God for the winding paths of a cemetery in which to ride and a loving Grandmother's chicken coup in which to hide motorcycles.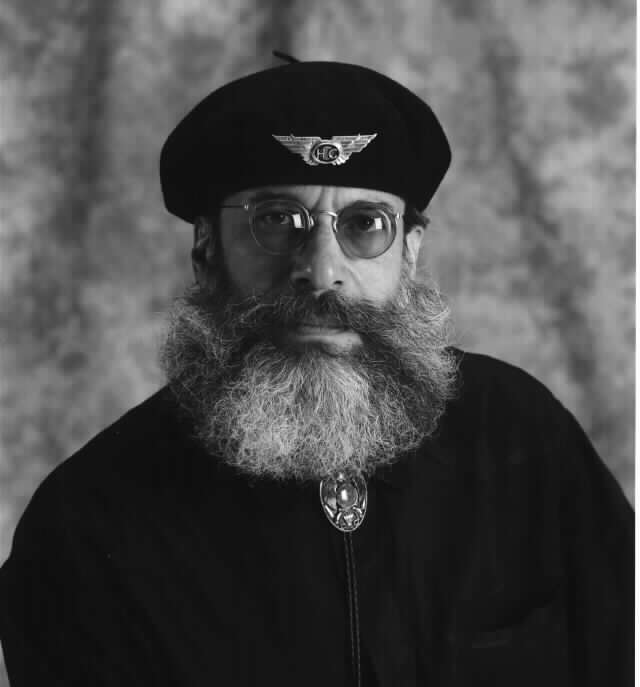 Having retired from Harley-Davidson he is on the University of Wisconsin-Milwaukee campus as a lecturer in the School of Music, teaching Rock And Roll History. Martin Jack is the right kind of scholar for this subject area because he has long been a student of Rock And Roll, an established performer and recording artist, and literally part of Rock And Roll history himself. His classroom lectures are a blend of quality research and quantifiable experience.
"The Holy Ranger Harley-Davidson Poems" is available at HolyRanger.com. Disregard the order form in the back of the book though as T-Shirts, badges, patches and the like are all in the hands of Rangers who traveled these roads before us. There were two CD's and two tapes that The Holy Ranger released. The CD's were "Down On The Spirit Farm," which has been re-released and is now available at HolyRanger.com, and "The Holy Ranger's Free Hand," which has been re-released in a 12th Anniversary Edition now at HolyRanger.com (along with many more of Martin Jack's recorded works that take original Rock and Roll further into and way out of motorcycle culture). Variations of many songs from these albums, along with newly recorded material, can be heard on the CD, entitled "No Freedom, Honey." The tapes, an album entitled "I Am The Holy Ranger" and a single then entitled "Renegade: Rocker Shall Survive" (the current album noted above contains the rare latter release in its entirety but retitled as "I Just Blame Everybody"), along with Martin Jack's Sixties through Eighties twenty-five books and dozen audio recordings, are out of print.
The unifying element in Dr. Rosenblum's written and recorded works has been Folk sensibility into Art narrative. Whether on subjects related to culture, history or personal revelation, there is an undercurrent of Folk Idiom with high Art Rock waves crashing upon literary and musical geography, mapping new possibilities without failing to tell a story, resulting, for example, in Rock and Roll that spreads out mystical album options in the way the poetry books did. Whether in print or within sonic pages turned, Rosenblum's works are simply complicated, or complicated simply.
Throughout all of his written texts and audio presentations, Dr. Martin Jack Rosenblum has sustained a single theme, that of shamanistic transferral of matters of the soul into words and musics. "No Freedom, Honey" presents 'selections' from the primary audio projects but in forms not found on the originals; "No Freedom, Honey" contains alternate versions, out-takes, rarities and absolutely new material never heard before. All of the album is new, then, and it does contain absolutely brand new material, too.
Although Martin Jack created a book which had The Holy Ranger eponym in the title, and as part two of the book, a CD, he never planned on being called by that name, as well as his own; however, perhaps the name fits, so we all call him by a name that stands for what he has written about. Martin Jack is a member of the revered Ugly Motorcycle Club, a life member of HOG and a life member of the AMA, and outside of these formal affiliations joins only those on the informal road to the mystical presence of all that is sacred in the blast of a Harley-Davidson motorcycle, accelerating into individual freedom and the Holy Ranger way of living.
I have been blessed to have known Martin Rosenblum personally and have visited him many times. Marty is the type of man you can trust, and take him at his word, and a hand shake on a deal is as good as a contract. He holds to the old beliefs that a mans word is his bond. I am proud to be able to call myself a Ranger and ride the same trails along with The Holy Ranger. I feel truly honored to be able to call Marty ........ Pals.
---
---